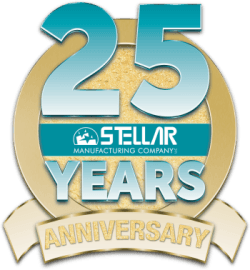 Sauget, IL – March 26, 2014 – Stellar Manufacturing, a contract manufacturer specializing in solid particle processing of chemicals and materials for diverse industries, is pleased to announce the celebration of its 25th year of operation this March. Founded in 1990 by President Tom Connelly, Stellar initially operated in a 60,000 sq. ft. facility in Hazelwood and primarily provided services to the pool chemical industry. Today, Stellar operates in a 392,000 sq. ft. custom built facility in Sauget, Illinois, employs over 100 people and provides services to companies across a variety of industries. After a quarter decade Stellar is known nationwide in the chemical industry as a leader in solid chemical processing and has built a solid reputation for quality customer service.
Reflecting on the past 25 years Mr. Connelley states, "I have been fortunate to have been surrounded by bright, thoughtful colleagues who care about our clients, our community and each other. Our larger clients, Albemarle, Axiall and Oxychem understand partnering and walk that talk. This has made Stellar a fulfilling endeavor for me and an enterprise our employees and clients can be proud of because they have made it successful for 25 years!"
Stellar Manufacturing continues to look towards the future with a variety of new initiatives. Late last year, Stellar began adding capabilities and capacity to serve a more diverse range of markets and customers. Stellar also implemented a new customer service initiative which included enhancing client communications, launching a new website and hiring new sales and customer service personnel.
About Stellar Manufacturing Company – Stellar Manufacturing Company is a contract manufacturer with 25 years of experience helping companies manufacture consumer and industrial products. Stellar is a leader in solid particle processing of commercial and industrial products requiring unique safety and handling procedures such as water treatment chemicals, detergents and agrochemicals. Our services include compaction granulation, processing, forming, tableting and packaging of chemicals and materials for use in a variety of applications by Fortune 500 and 1000 companies.
Contact:
Ben Wodicker
1647 Sauget Business Blvd.
Sauget, IL 62206
Phone: (618) 337-1700