Stellar Manufacturing Overview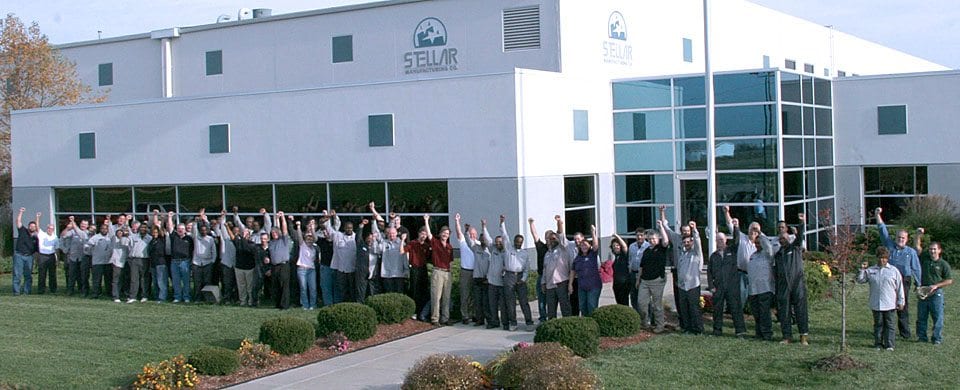 Stellar Manufacturing Company is a contract manufacturing organization which specializes in solid particle chemical processing and provides services to the water treatment, chemical, agrochemical, consumer product, minerals and pool & spa industries. Stellar provides compaction granulation, briquetting, blending, tableting, filling, packaging and warehousing services for Fortune 500 and Global 500 companies.
From Powder to Product
Founded a quarter century ago as a contract manufacturer of pool and spa chemicals, Stellar has expanded its industry focus and service offerings to become an integrated manufacturing partner. Whether it's a comprehensive program or a stand-alone granulation or blending project, Stellar excels at "Making Materials Marketable" by adding unique value to our client's supply chain. For large programs we can take your material from "Powder to Product" and turn your raw material into a final packaged product. For stand-alone projects we leverage our decades of experience to deliver cost-effective quality results specific to your production goals.
What Makes Us Special?
Customer Focus: We aspire to build lasting partnerships with our clients, where careful communication and confidentiality are of the highest importance. At Stellar we strive to meet our client's expectations and create a unique relationship and communication plan specific to each client.
Dedicated Contract Manufacturing: Stellar has always focused on being a dedicated contract manufacturer and does not manufacture any products of its own. Our clients can rest assured that there won't be a conflict of interest when placing a project at our facilities. View our Services.
Experience with Difficult Materials: Working with pool and water treatment chemicals early in or existence gave us the background knowledge to work with highly corrosive materials such as halogenated or oxidizing compounds. In recent years, we have expanded our capabilities to handle materials that are a dust explosion hazard. Safety and excellence continue to be the mantra for or organization. View our Chemical Specialties.
Employee Knowledge and Retention: Throughout our growth we have made a commitment to investing in our employees. Our average employee has been with us for over 11 years. This has resulted in a highly experienced team and the results show in our quality, safety record and stability of our organization. View our Quality Assurance Pledge.