'We Strive' Quality Program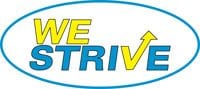 Stellar Manufacturing is committed to providing world class manufacturing services, a safe working environment and supporting sustainable environmental practices. This is why Stellar established its "We Strive" program. We Strive is an intensive quality program at Stellar Manufacturing that pulls best practices from a variety of industry organizations to achieve the following goals.
World Class Manufacturing
Stellar has implemented a strict quality system to ensure the highest level of care for our client's products. We have leveraged our 25 years of experience to create comprehensive SOPs and training programs. Our manufacturing team is overseen by a veteran quality department and our equipment is maintained by experienced maintenance engineers. Our systems are reviewed regularly for improvement and all of our employees are encouraged to contribute to enhancing client satisfaction. We actively track and share performance metrics across the organization and seek input from all levels to improve company performance.
Safe Working Environment
Stellar has adopted a world class safety incentive program and utilizes "The Safety Award Store" to encourage participation in its safety systems. This program encourages workers throughout the organization to monitor and improve the work environment. Employees are rewarded through an innovative electronic tracking system when they report a "near miss" or make a safety suggestion. Employees earn safety credits which they can exchange for gifts and rewards. Stellar further supports a safe working environment through regular training and education for all of its employees.
Environmentally Sustainable Practices
Stellar is committed to improving its environmentally sustainable manufacturing practices. Stellar has implemented an organization wide recycling program and is seeking to expand its sustainability efforts in its manufacturing process and waste disposal.