Dry Compaction Granulation:
The Solution for Bulk Material Processing
Does your product require compaction granulation?
Are you experiencing bulk density problems or uneven settling of your blended product?
Many products made from solid particles or bulk materials experience a variety of problems in their manufacture or application. These problems may include caking, clumping, settling, attrition and more. Often, the source of these problems can be solved by compaction granulation. At Stellar Manufacturing, we specialize in helping companies make their products meet their performance criteria through compaction granulation. We have integrated our compaction granulation, blending, briquetting, tableting, filling and packaging capabilities.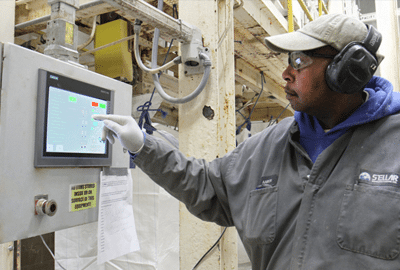 Our on-site QC laboratory and EH&S staff ensure greater product quality by adhering to customer specific quality and regulatory needs. Our capabilities help clients achieve their desired product performance such as better flowability, reduced attrition, less product dusting and greater granule composition consistency.
Contact Us to find out more about how Stellar can help you achieve better product performance and consistency.
About Stellar Manufacturing
Stellar is a contract manufacturer with 25 years of experience helping companies manufacture consumer and industrial products. Stellar is a leader in solid particle and bulk material processing for products requiring unique safety and handling procedures. Our services include compaction granulation, briquetting, blending, tableting and packaging of chemicals and materials for use in a variety of applications by Fortune 500 and 1000 companies.