Briquetting Overcomes Solid Chemical Product Challenges
Briquetting, the process of compressing material into uniform shapes and density, is an established manufacturing technique used to overcome a variety of product challenges associated with solid material products. Whether the material is a mineral, chemical or biomass product, briquetting reforms products into a more compact usable shape and provides a variety of economic benefits.
Powder based materials and chemicals often benefit from the briquetting process. The compacted form allows for greater control over the rate of dissolution or burning when compared to the uncompacted form. Additionally, the smaller volumes can mean lower transportation and storage costs. Briquetted material can also give old material new life. Compaction into a briquette means waste material like biomass, paper or polymer foam can find purpose as a new product.
Briquetting can also help reduce flammability issues associated with some products. In their uncompacted forms, many products may have excess dust which can be a serious safety hazard. Briquetting can help reduce the amount of ambient dust to minimize any combustion risk.
At Stellar Manufacturing we help companies with a variety of challenges associated with solid materials. Our briquetting capabilities include integrated 50, 75, 150, and 300-ton compaction systems to produce material for a variety of end uses. Our mixing and compaction granulation services also help prepare material prior to briquetting. Stellar is able to accommodate a variety of customized shapes and sizes as determined by our clients.
Contact us at (618) 337-1700 or info@stellarmfg.com to find out how Stellar can help you accomplish your granulation and manufacturing goals.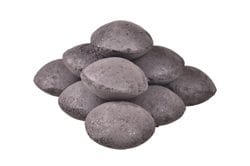 About Stellar Manufacturing
Stellar is a contract manufacturer with 25 years of experience helping companies manufacture consumer and industrial products. Stellar is a leader in solid particle and bulk material processing for products requiring unique safety and handling procedures. Our services include compaction granulation, briquetting, blending, tableting and packaging of chemicals and materials for use in a variety of applications by Fortune 500 and 1000 companies.