Overcoming Particle Segregation with Powder Blending Techniques
One of the biggest challenges working with powder material is particle segregation. There are several powder blending techniques to overcome segregation. Particle segregation is essentially the de-mixing of a blended material. In common parlance we might say a mixture is "settling". However, this is an oversimplification. Segregation is dependent upon several factors such particle size, density, moisture content and more. There are also many types of segregation including sifting, fluidization and dusting. Essentially, whenever a mixture moves there is a chance that some level of segregation can occur.
In manufacturing processes that involve blending powder, manufacturers take several steps to ensure a high degree of homogeneity is maintained. One of these steps is to constrain particle size variation through a process like compaction granulation. Compaction granulation is a common particle sizing technique frequently used for products made from powder based materials such as minerals, fertilizers and industrial chemicals. By maintaining a small particle size ratio, the rate at which each particle flows or moves should be relatively consistent. Therefore, segregation by sifting is reduced. Furthermore, selecting the correct manufacturing equipment is also important. Different types of delivery or collection systems may be prone to different types of particle segregation. Often modifying or changing a set-up can resolve segregation problems.
At Stellar Manufacturing we provide powder blending services for a variety of industries and products such as industrial chemicals, water treatment products and fertilizers. We have helped many companies incorporate blending as part of manufacturing process and have developed solutions to overcome challenges which include segregation, flowability and dusting. Stellar also provides compaction granulation, briquetting, tableting, filling and packaging services involving blended powder.
Find out how Stellar Manufacturing can assist with blending your powder based products and overcoming segregation challenges, contact us at (618) 337-1700 or info@stellarmfg.com.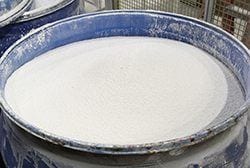 About Stellar Manufacturing
Stellar is a contract manufacturer with 25 years of experience helping companies manufacture consumer and industrial products. Stellar is a leader in solid particle and bulk material processing for products requiring unique safety and handling procedures. Our services include compaction granulation, briquetting, blending, tableting and packaging of chemicals and materials for use in a variety of applications by Fortune 500 and 1000 companies.