Compaction Granulation and Polymer Products
Manufacturing raw polymer products materials involves a variety of challenges which compaction granulation is uniquely positioned to overcome. Of particular importance is reducing dust in the production process and in the final raw material. Dust can act as a combustion hazard endangering employees and the manufacturing facility. Excess dust is also a challenge when it involves known sensitizing agents which can cause debilitating allergies and breathing problems. Proper compaction granulation reduces dust exposure which means less combustion and health hazards.
Polymer related products that benefit from compaction granulation:
PVC products
Latex
Electronic components
Biphenol
Oxidized polyethylene
Brominated polystyrene
Nitrogenous polymers
At Stellar Manufacturing we provide comprehensive compaction granulation services that support polymer materials:
Fully integrated 50, 75, 150, and 300-ton compaction systems
Particle size reduction and selection in the 70 mesh to 1/2" range
Dust combustion capabilities
Integrated program including tableting, briquetting, and packaging
Want to know more about how compaction granulation supports polymer manufacturing? Contact us today at info@stellarmfg.com or (618) 337-1700.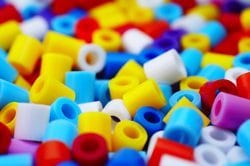 About Stellar Manufacturing
Stellar is a contract manufacturer with 25 years of experience helping companies manufacture consumer and industrial products. Stellar is a leader in solid particle and bulk material processing for products requiring unique safety and handling procedures. Our services include compaction granulation, briquetting, blending, tableting and packaging of chemicals and materials for use in a variety of applications by Fortune 500 and 1000 companies.