How Compaction Granulation Can Help Overcome Dusting Related Challenges
Raw materials for polymers, agricultural and water treatment products are often in a dry powder form. Products composed of dry powders and particulates pose unique challenges to manufacturers. Such products are often dusty, messy and even difficult to transport. The excess dust is of critical concern both for manufacturers and end users because of waste, inhalation and health concerns, as well as combustible dust hazards.
Compaction granulation is a tool manufacturers can use to reduce dusting and improve both the performance and safety of their product. Compaction Granulation is the process of converting dry powder into a larger particle size. The compacted particle size distribution is chosen to fit the specific application of the product or manufacturing process the material will be used in. Compaction granulation can reduce waste and make powdery materials easier to transport. It can even improve the flowability of material in manufacturing processes.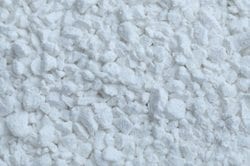 At Stellar Manufacturing we have over 25 years of compaction granulation experience including products which are a combustible dust hazard. Our capabilities include fully integrated 50, 75, 150, and 300-ton compaction systems and can produce particles in the 70 mesh to 1/2" range. We have a dedicated combustible dust suite which houses a Bepex MS-150 built with explosion proof motors. Stellar's granulation services are further complimented by our blending, briquetting, tableting and packaging services.
About Stellar Manufacturing
Stellar is a contract manufacturer with 25 years of experience helping companies manufacture consumer and industrial products. Stellar is a leader in solid particle and bulk material processing for products requiring unique safety and handling procedures. Our services include compaction granulation, briquetting, blending, tableting and packaging of chemicals and materials for use in a variety of applications by Fortune 500 and 1000 companies.