When Is Specialty Tableting Right for Chemical Products?
Specialty tableting is the complex method of manufacturing tablets made from a formulation that consist of multiple chemical components, such as active ingredients, binders or other fillers. Often times the blending and mixing portion of the process is a crucial step in ensuring the final product meets performance specifications. For example, in order to ensure final product consistency, two or more ingredients may need to be blended together in-line, and then co-granulated prior to tableting. If not done in-line, then the tablet may not have a good uniform distribution of each chemical component, and could result in inconsistent performance properties. Essentially, specialty tableting is critical any time a product is made from two or more components, and therefore needs to be carefully balanced.
At Stellar Manufacturing we have comprehensive specialty tablet manufacturing capabilities to support a wide variety of chemical products. Furthermore we can support complex chemical formulations requiring specific manufacturing techniques such as blending, compaction granulation, tableting and packaging. Some of our capabilities include:
Specialty blending and mixing equipment (ribbon, v-style, paddle, dual-cone, continuous)
50, 75, 150 & 300 ton Bepex MS Roll Compaction equipment
Particle size reduction and selection equipment
45 mechanical, hydraulic and rotary presses capable of exerting 5 to 650 tons of pressure
Tablet sizes from 250 mg to 1200 grams
Controlled environment ensures proper temperature and humidity control
Custom tablet shapes available
Want to find out how your chemical product can benefit from specialty tableting? Contact us at (618) 337-1700 or email us at info@stellarmfg.com.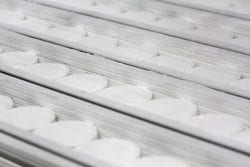 About Stellar Manufacturing
Stellar is a contract manufacturer with 25 years of experience helping companies manufacture consumer and industrial products. Stellar is also a leader in solid particle and bulk material processing for products requiring unique safety and handling procedures. We provide services such as compaction granulation, briquetting, blending, tableting and packaging of materials for a variety of applications. Due to our technical expertise, experience and quality, our clients can rest assured their product production is in good hands.