Is Chemical Tableting Right for Your Product?
Chemical tableting is an important technique that can improve the performance of a wide variety of solid chemical products. By compressing materials into uniform shapes and sizes scientists can better control the dissolution and distribution of their product over a period of time. This can be important for products that are used in industrial water treatment, pool, spa, agricultural and many other applications.
Tableting is also an excellent tool to use when material needs to be packaged and sold in discrete units. This adds convenience to consumers and can make the product easier to use and understand. We see tableting used in this way for a variety of detergent and cleaning products.
At Stellar Manufacturing, we have 45 mechanical, hydraulic and rotary presses. These presses can exert 5 to 650 tons of pressure and can make tablets in sizes from 250 mg to 1200 grams in standard or customized shapes. Work is performed in a controlled environment to ensure proper temperature and humidity control. We also provide services that support a comprehensive tableting program such and blending, mixing, compaction granulation and packaging.
Contact us at info@stellarmfg.com or (618) 337-1700 to find out how we can help you with your tableting program..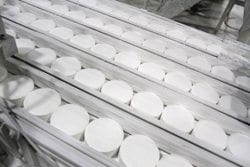 About Stellar Manufacturing
Stellar is a contract manufacturer with 25 years of experience helping companies manufacture consumer and industrial products. Stellar is a leader in solid particle and bulk material processing for products requiring unique safety and handling procedures. Our services include compaction granulation, briquetting, blending, tableting and packaging of chemicals and materials for use in a variety of applications by Fortune 500 and 1000 companies.