Tolling Services for Consumer Products
Are you seeking tolling services to achieve greater efficiency and flexibility in manufacturing your consumer product? At Stellar we help companies like yours achieve their manufacturing goals and get products to consumers more quickly while maintaining the highest level of quality. We provide tolling and contract manufacturing services for powder and particle based products like household cleaning products, detergents and pet care products.
We differentiate ourselves from the competitions with our fully integrated services that can take you "from powder to product". Stellar can granulate, mix, tablet, package and warehouse your product at its state-of-the-art, centrally located facility. We also specialize in handling chemicals that are highly caustic or may be a combustion hazard.
We invite you to contact us at (618) 337-1700 or info@stellarmfg.com to discover the great ways we can help you achieve your product manufacturing goals.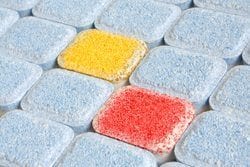 About Stellar Manufacturing
Stellar is a contract manufacturer with 25 years of experience helping companies manufacture consumer and industrial products. Stellar is a leader in solid particle and bulk material processing for products requiring unique safety and handling procedures. Our services include compaction granulation, briquetting, blending, tableting and packaging of materials in a variety of applications.